2016 Dodge  Durango
Inventory
Get Financing
Service
Find Parts
Contact Us
Used 2016 Dodge Durango at Button Dodge for Kokomo, IN
The Dodge Durango for the year of 2016 was built with top notch tires that have better traction control as well is better technology on the interior of the vehicle that buyers find very impressive. In addition to these two items there are many other minor exterior upgrades for 2016.  The 2016 Dodge Durango was built to have a smooth driving experience with impressive handling technologies. The exterior of the Durango has a confident and bold appearance with solid body lines.  If buyers are looking for a vehicle that can carry big items to and from places (camping for example), then the Durango is the perfect vehicle. This is because its towing capability is top notch compared to others in its segment. Even when towing big items behind the Durango the vehicle continues to drive smoothly over tough or rugged terrain. There is a Sport mode driving option for buyers who are interested in the 2016 Dodge Durango. The Sport driving option enables drivers to stop quickly and turn faster and safer when needed. The faster response times that the Sport driving mode gives the Durango allows for increased safety in a collision type scenarios.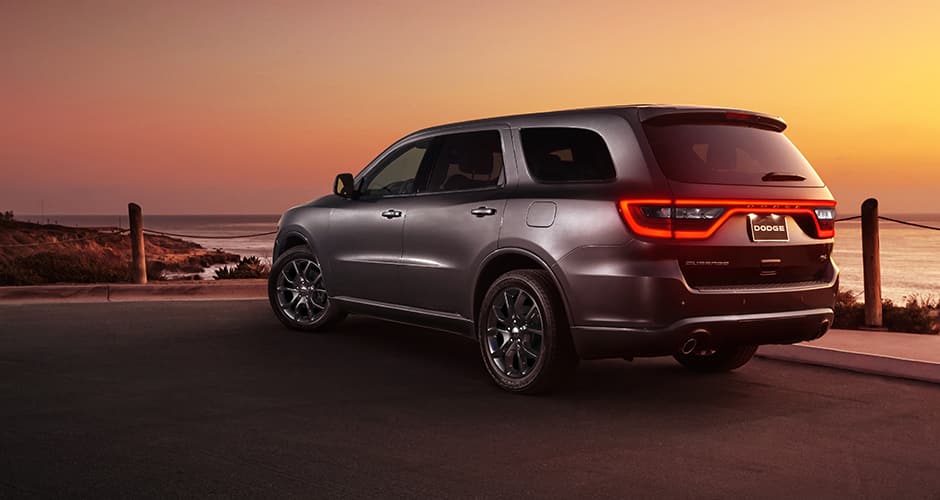 Under the Durango's Hood
The engine in the Dodge Durango model is an impressive 3.6-liter Pentastar V-6 engine. This engine is equipped to use about 295 horsepower with 260 lb.-ft. of torque. The engine on the Durango is very durable and engineered to drive long distances with extreme power and ease. The 2016 Dodge Durango has the capability to tow 6,200 pounds behind it. A feature that buyers really enjoy on the Dodge Durango is how it is equipped to go a full 600 miles with a full tank of gas. Meaning the times at the gas stations are few and far between. Another engine that is available for this model is a 5.7-liter HEMI V-8 engine. This can accelerate to about 360 horsepower with 390 lb.-ft. of torque.  If a buyer needs to tow more, this engine is equipped to do so, being able to tow about 7,400 pounds behind it.With the Dodge Durango there is the option between all-wheel drive and rear-wheel drive. These options react depending on the buyers driving style. Buyers choose a driving experience they are most comfortable with being able to tailor the vehicle to their own driving needs. No matter which driving mode the buyer chooses, the model will come standard with an eight speed automatic transmission to help with shifting quality and faster acceleration.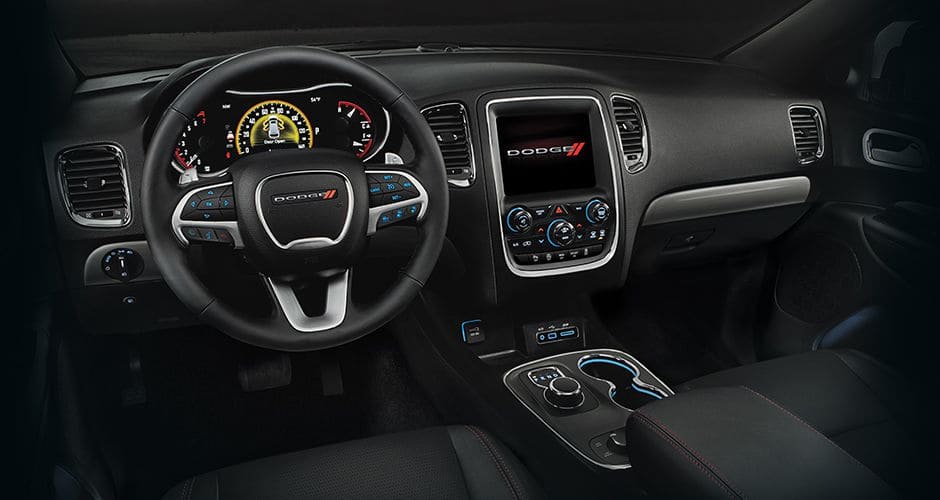 Design of Dodge  Durango
The trim levels for the Dodge Durango are: SXT, Limited, R/T and Citadel. There are a variety of different colors to choose from some of them are: red, brown, silver, black and blue.Other features for the Dodge Durango are: Uconnect system, many seating options, Blu-ray technology and a storage space. With this vehicle holding up to seven passengers, it is great for big families! 
Do you have any information about other models?
Yes! Click for more info
What are the different trim options for the model?
SXT, Limited, R/T and Citadel
How many passengers can the model fit?
Seven
Conclusions
The safety features for the vehicle are: traction control, forward collision support, Uconnect seamless technology, blind-spot assistance, rear cross path support, side air bags etc.
Read Our Other Reviews
2016 Dodge Journey
2016 Chrysler 200
2016 Chrysler 300