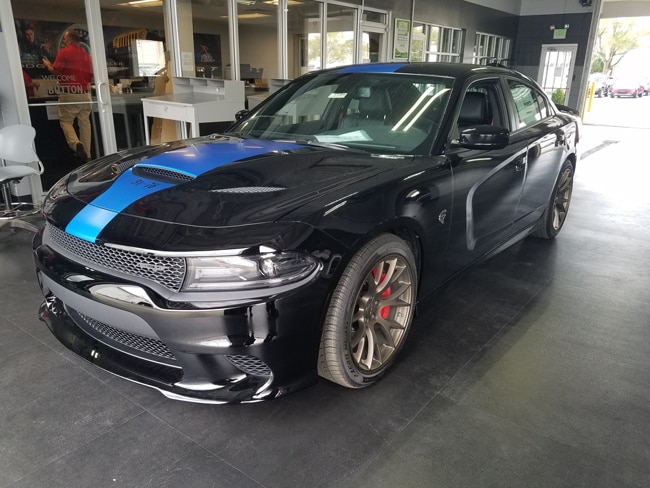 Button Chrysler Jeep Dodge Ram has joined with Fraternal Order of Police (FOP) Local 78 to raffle a 2017 Dodge Charger SRT Hellcat in honor of fallen Howard County Sheriff Deputy Carl Koontz on Friday, Sept. 29, during the First Responder Appreciation Day. The funds raised during this drawing will benefit the Carl Koontz Memorial Scholarship Fund.
Area first responders and the community are invited to participate in many fun ways to celebrate the life and memory of Deputy Koontz from noon to 2 p.m. There will be plenty for all to enjoy including food, music, a showcased lineup of Dodge's law enforcement vehicles and the Hellcat raffle.
The raffle of the 2017 Dodge Charger SRT Hellcat, detailed with a blue line and custom bronze wheels, will end promptly at 2 p.m. when the drawing is set to take place. Participants do not have to be present to win and are welcome to get tickets online at www.3476hellcat.com. Indiana Gaming Commission License # 141984.
As a "thank you," all first responders who present their badge, ID or arrive in uniform are welcome to enjoy a free lunch of barbeque sandwiches, chips and a drink provided by Southern Cuisine, LLC. The public is also welcome to join the event for lunch for a small fee. Food will be served until 1:30 p.m.
First responders will also be given the opportunity to take advantage of special pricing on vehicle purchases during the event.
Music will be provided by Spikes DJ and Karaoke via their customized mobile party Promaster for all of Button CJDR's guests to enjoy throughout the duration of the First Responders Appreciation Day.
A tent event will be taking place during this time and lasting until Monday, Oct. 2. Button CDJR's guests will be able to use this time to take advantage of special pricing on vehicles from all over the lot and have an opportunity to see all of the different new and used vehicles available.
Button CJDR is located at 1220 E. Boulevard in Kokomo. For more information, please call 765-457-1189 or visit www.buttondodge.com. Button CJDR can also be found on Facebook, Twitter, Instagram and Snapchat.