By Krissy Boyd
Button CJDR E-Commerce Manager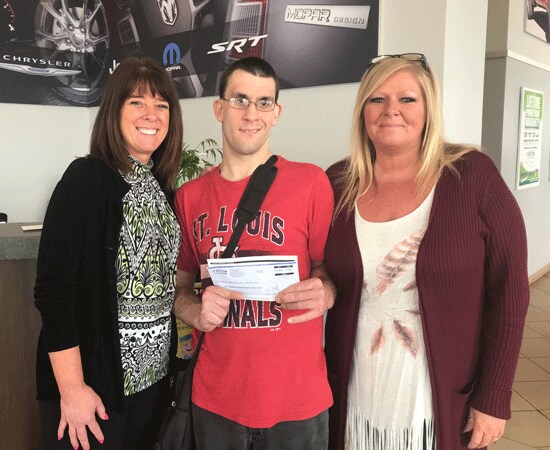 (Pictured left to right) Members of the Button CJDR team Human Resources Manager, Stacy Shafer; Reconditioning Shop Assistant, Jeremy Ramberger and Office Administrator, Melissa Crull smile together after a check for $650.95 was presented to Ramberger. Donations were gathered from the Button staff to go toward the Art Anderson Campership Award.

On Friday, April 13 Button CJDR and McGonigal Buick GMC Cadillac Reconditioning Shop Assistant, Jeremy Ramberger was presented with a check from Button for $650.95. The funds were raised from employees paying to wear jeans to the dealership on Fridays for a $10 minimum donation to go toward the Sagamore Council Boy Scouts of America's Art Anderson Campership Award.
The Art Anderson Campership Award goes toward the fees of boys attending Camp Cary for Cub Scouts and Camp Buffalo for Boy Scouts.
In addition to acquiring donations through his coworkers, Ramberger also has give-back-nights at Buffalo Wild Wings as well as Hacienda and his biggest event of the year is a bowl-a-thon that he organizes himself.
Ramberger has become very instrumental in funds being raised toward the endowment because of his friendship with Anderson, who passed away in 2011. So far in 2018 he has helped raise nearly $5,000.
"Art is my hero. When he died, it really took a toll on me. I was really upset and didn't know what to do, but I knew I needed to do something positive," Ramberger said.
When trying to come up with a means to find a beneficial way to give back in the name of Anderson, he turned to a pastime from his childhood.
"I grew up at the bowling alley," Ramberger said. He continued, "Everyone loves bowling. Even if you throw a gutter ball you still have fun!"
The bowl-a-thon has been going on for several years now, and gets bigger each time.
This year's event took place at Heritage Lanes in Kokomo on Sunday, Feb. 11, and a total of 93 bowlers participated across 26 lanes.
Ramberger is thankful for the support of the community coming out to bowl and give in honor of Anderson and the Boy Scouts of America. He also said, "Thank you to Functional Devices for sponsoring our bowlers." Anderson was a consulting engineer for Functional Devices. Ramberger continued, "Thank you to [the Vehicle Reconditioning Center] for making me feel special."