By Krissy Boyd
Button CDJR E-commerce Manager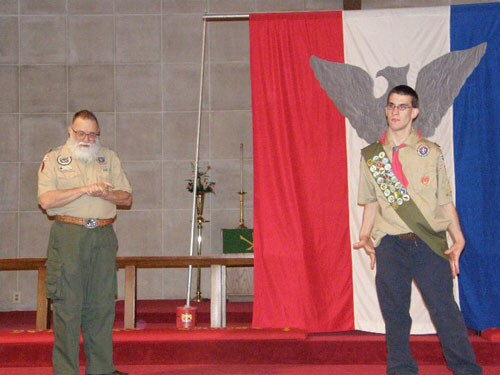 Art Anderson (left), Jeremy Ramberger (right)

STEEE-RIKE! The sixth annual Art Anderson Bowl-a-thon is less than a month away and will give Boy Scouts of America Sagamore Council the opportunity to attend summer camp at Camp Buffalo through an endowment made in the name of Art Anderson, former life-long Boy Scout and assistant scoutmaster.
"The reason for the campership fund is to carry on what Art always did, which was getting boys to summer camp. That was always his whole big thing, getting Boy Scouts to camp," said President of the Sagamore Boy Scout Council, Nick Pate.
Since Anderson's passing in 2011 about $22,000 has been raised in an endowment in the avid Boy Scout and assistant scoutmaster's name.
Nick continued, "An endowment never goes away. You use the interest from the money that is raised to send the kids to camp. This endowment will be here long past you and I, we will always get to send kids to camp."
Anderson was Al Harvath's assistant scoutmaster in Troop 506.
"When I was scoutmaster, Art was my right arm," said Harvath. He continued, "He was always about getting the scouts to summer camp. He went to camp every year for 30 years, except one year."
Anderson joined Scouts when he was around 13 years old, and continued through the rest of his life.
"If there was any boy in the troop that needed anything to get to camp or couldn't afford it, Art would make it happen. So, when he passed, one of the ideas we came up with to honor him was the Art Anderson Campership Fund," said Harvath.
Harvath motioned to Assistant Scoutmaster and founder of the Art Anderson Bowl-a-thon, Jeremy Ramberger and said, "This guy came up with the idea to do the bowl-a-thon every year to continue to grow that fund so more and more boys could be helped. Camp gets more expensive every year, so we need to continue to raise more funds."
"When we started the bowl-a-thon six years ago, I needed a way to grieve and get over his passing. Now it's a way for me to not only thank Art, but give back to the organization that built my confidence," said Ramberger. "So, when I started this, I just wanted to say goodbye in my own way, and now it's excitement knowing that every year I'm contributing and giving other scouts the opportunity I had because of Art."
"The bowl-a-thon is getting bigger every year. We started out raising money through the funds with bowling and we had some door prizes we were able to get from local merchants," said Harvath. "That grew to expanding from door prizes to a silent auction, and now we've gotten to the point to where we have corporate sponsors."

Corporate sponsors at the 2019 Art Anderson Bowl-a-thon include, Button Chrysler Jeep Dodge Ram, McGonigal Buick GMC Cadillac, Mid-America Beverage and FCA.
This year, there will be several quality items to bid on such as gift cards, baskets, and more. There will be something for everyone.
"We've been able to not just do the same thing every year, but Jeremy and the committee have been able to do more and grow every year. We get a lot of folks from Functional Devices, which is where Art worked. They continue to support the cause in his memory, as well as scouts, family, friends and members in the community," continued Harvath. "One thing he believed in, if you could get a scout to summer camp, they will stay in scouts."
Anderson's dedication to his Boy Scouts came with meticulous organization and preparation for getting their merit badges.
"He kept paperwork, information on the computer and had clipboards with what all the scouts were working on, and I can remember seeing him in his tent at camp going over all of it," said Ramberger. "When Art had you for a five-mile hike, it would never be just a hike. He memorized projects the scouts had to work on. You never knew it, but when you were on a hike with him, you were going to get two or three more requirements for rank done."
"Art would be tracking everything and work though who had completed what, and he would get the badges ready to be presented at the end of the week. He always wanted those kids to get their badges before they went home from camp," said Harvath.
At summer camp, Boy Scouts have the ability to work on everything from the basics to badges reflecting any future career opportunities.
"The younger scouts work on their advancements to get to first class such as first aid, camping, fire building, knot tying and other basic camping skills. All the older scouts work on merit badges like rifle shooting, shotgun shooting, archery, outdoor skills, swimming and lifesaving," said Harvath.
"There is even a badge for welding," said Pate.
"At Buffalo, they have one of the nicest ranges in the county as far as Boy Scouts go. And they have an indoor archery range," said Ramberger. "The scouts can earn 100 different badges or more."
The bowl-a-thon will give Boy Scouts the opportunity to earn these badges during the week-long summer camp at Camp Buffalo.
Last year over $4,000 was raised in honor of Anderson. This year, they are hoping to break $5,000.
"It's something I'm really proud of. To Art: Thanks," said Ramberger.
The Art Anderson Bowl-a-thon will be held on Sunday, Feb. 10 at Heritage Lanes, located at 1302 W. Lincoln Rd., Kokomo.
Check in will be at noon and bowling will begin at 1 p.m.
The cost to participate is $20 per person who signs up by February 6, with the cost after that date rising to $25.
Each bowler will receive three games of bowling and shoe rental.
The concession stand and other regular bowling alley offerings will be available.
For more information, please call Jeremy Ramberger at (765) 319-3425.